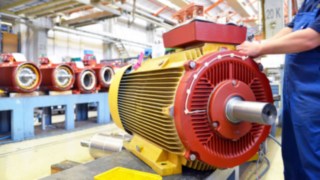 Hartmut Rauen is a member of the executive board of the Verband Deutscher Maschinen- und Anlagenbau e.V. ( VDMA ). In this interview, he speaks about the opportunities e-mobility offers for business in Germany.
What is happening in German industry in the field of e-mobility?
A great deal is happening across many different levels. On one hand, new applications for electric engines are constantly being developed. Linde Material Handling is an excellent example of this. The company is using its expertise to open up a wide range of new areas, both for itself and for users. This development is extremely dynamic in nature, which in turn is driving engine development forward. On the other hand, the German mechanical engineering industry is becoming increasingly important as a supplier for e-mobility.
What exactly does that mean?
It means that production is a crucial aspect for the success of e-mobility. The reason for this is that the entire value chain needs to be efficient – from constructing new and more effective electric engines to developing new production solutions for making cost-effective batteries through to lightweight design. Mechanical engineering will provide solutions here for highly automated CFRP production, for example, to enable automotive production runs to be implemented in the future. All of this makes the mechanical engineering industry a solutions provider.
What is the current state of research in this field of innovation?
In my view, Germany is one of the world's leading research locations in the area of electric drivetrains. The VDMA research associations for drive technology (FVA) and combustion engines (FVV) both run a wide range of research projects relating to the topic of EMotive. To put the work involved in perspective, the FVA alone includes around 1700 industry experts. Three hundred participants from renowned universities are joined by representatives from across the automotive industry and from a wide range of companies with specialist expertise, such as Linde Material Handling. The association brings together the best minds for joint research projects with a view to establishing an innovation base to promote advancement on a company-specific basis.
Where will the evolution of e-mobility take us in the coming decades?
The electrification of the drivetrain will play an increasingly important role for mobility—this will not necessarily only mean purely electric drives, but also hybrid variants. Conversely, in the future we will hardly see any new cars on the road that only have a combustion engine. In many areas, such as scooters, I believe the electric engine will take over completely. We will certainly see some fascinating developments in the future!
More from eMotion Magazine
Want to find out more about e-mobility? Please feel free to get in touch!