Linde products
High-tech features under the hood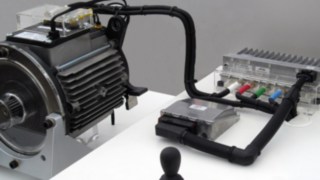 Building blocks for an innovative quick start
A truck can only achieve what its component parts allow. Linde eMotion therefore uses tried-and-tested components from Linde Material Handling's forklift truck technology for retrofitting and developing customized solutions in the field of electrically powered trucks.
We advise customers on the right choice of products to ensure that all components interact perfectly. These include, for example, powerful drives,robust axlesand reliable accessories such as control sticks,inverters,joysticks, sensorsand customized batteries.
Linde eMotion also provides truck software as an essential component of a modern drive solution. We also provide software for set-up and diagnostics of transmission control as well as a fleet management system for reliable and innovative functions relating to the deployment of trucks with electric drives.

Drives & accessories
Software
Other products
Do you have any questions about our products? Please feel free to get in touch!