Efficient inverters
The power modules for drive motors and pump motors enable AC motors to be used in battery-operated trucks. They are tailored to Linde Material Handling electric motors.
Design features
Field-oriented 4-quadrant vector control
MOSFET driver (IMS)
Single modules (1 x AC) and double modules (2 x AC)
24, 36, 48, 72 or 80 V battery voltage
0.5 to 30 kW power, current up to 600 A
System communication to LINC via CAN bus
Flange area for heat sink assembly or cooling fins
Optional fan kit available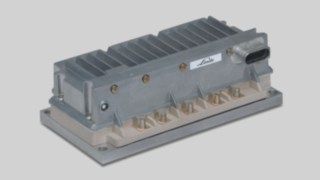 Key figures
Model
Battery voltage
[VDC]
Signal voltage
[VDC]
Suitable for these
motors
PM AC S10
24 – 48
12, 24
IEC90 – IEC112
PM AC S50
24 – 110
12, 24
IEC90 – IEC160
PM AC T50
24 - 48
12
IEC90 – IEC112
Product advantages
Modern electronics design
Different versions for different uses
High efficiency
Energy recovery possible
Do you have any questions about our products? Please feel free to get in touch!