The connect fleet management solution
A complete digital overview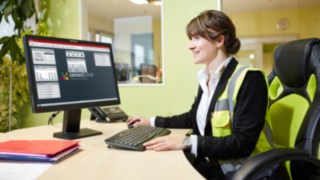 Central information and management platform
Where exactly are the trucks? Is the fleet being optimally utilized? Who drove a particular truck last? These questions are essential, in particular for fleet managers, for ensuring that trucks are used cost-effectively and safely – completely irrespective of the field of application. The Linde Material Handling connect product family can, where necessary, be combined with Linde eMotion drive solutions.
Here, the fleet management solution connects trucks and continuously updates fleet managers with status-related information. This transparency makes deploying the fleet safer and more cost-effective. The availability of each individual truck also increases. The advantages of connect can be utilized across different industries and applications.
Advantages at a glance
More cost-effective
Identify underused, overused and fault-prone trucks
Increase truck availability
Identify bottlenecks early on
Detect, reduce or avoid overcapacity
Ensure maximum safety
Prevent unauthorized use of trucks
Limit intentional misuse and irresponsible driving
Detect and resolve hazard spots in truck traffic
Implement automated speed adjustment in defined zones
Detect operational limitations of trucks early on
Greater transparency
Clear assignment of drivers and trucks
Administration of drivers' licenses, training and health checks
Representation of the organizational structure in fleet management
Detailed usage and consumption data for each truck
Individually configurable, informative reports
Optimal service
Reduce substantive damage
Track maintenance intervals
Avoid overuse of individual trucks
Prevent key loss
Detect truck damage early on
connect in use
Full control on the kart track
Kart track operators have similar system operation requirements to those encountered in the logistics industry: maximum safety, minimum repairs and optimum vehicle capacity utilization. So why not also use a tried-and-tested fleet management solution from the forklift truck industry for kart tracks? That's exactly what happened for E-DRENALINE, which the Italian manufacturer of racing and rental karts CRG developed together with Linde eMotion. The e-kart was fitted with the Linde connect fleet management solution. It provides kart track operators with all important information on their fleet: Who is currently at the wheel? To what extent is kart capacity being utilized? Which driver had a crash and when? The video features the Zürich-Rümlang kart track where the karts have already been fitted with connect.
Driverless travel thanks to connect
Linde connect has also been integrated into the driverless car XchangE from Rinspeed. connect's data logging and transfer system has been used here for efficiently servicing, operating and managing individual cars or entire fleets of them. Linde connect also carries out smart access control in the XchangE via RFID technology as an electronic ignition key. In an interview at the Geneva International Motor Show, Frank M. Rinderknecht, CEO of Rinspeed AG, discusses how the system is used and why he opted for Linde connect.
connect in detail
Do you have any questions about our products? Please feel free to get in touch!