Full control with maximum performance
All machine operations can be managed via a single set of control electronics with Linde eMotion LINC series electronic controls. They ensure that all Linde electrical components interact perfectly.
Robust all-rounders
Armed with its extensive development experience and having successfully tried and tested its controls in an extremely wide range of trucks, Linde has been able to continuously improve its controls and design them to be both mechanically and electrically extremely robust. As such, they form the basis of reliable control for hydraulic and electric drives – or even a combination of both types of drive. Joysticks, pedals and CAN buses can also be incorporated into the control concept in addition to drive components. A functional controller and a safety controller form the basis of the components.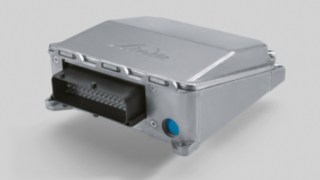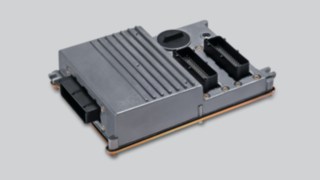 Design features
Redundant safety concept with functional controller and safety controller
Pre-configured set-up
8 to 32 VDC operating voltage
Reverse polarity protection
Short circuit protection, all inputs are protected against operating voltage and ground
Communication via CAN bus
Compliant with EU Directive 2004/108/EC
Resistant to electrical system pulses
Robust and sealed housing for mobile applications in accordance with ISO 7637-2
Protection class IP67 in accordance with EN 60529
Resistant to salt spray, hydraulic oil, diesel, UV radiation and fertilizers
Product advantages at a glance
Single set of control electronics for the entire machine drive
Perfectly coordinated in line with Linde Material Handling electric drive components
High level of availability and reliability
Able to guarantee safety functions up to performance level d in accordance with DIN EN ISO 13849-1
Can be deployed in machines within the context of the Road Traffic Licensing Regulation (StVZO)
Can be configured in line with commercially available input peripheral equipment
Machine behavior can be adjusted individually
Straightforward parameterization and diagnostics using LinDiag®
Do you have any questions about our products? Please feel free to get in touch!