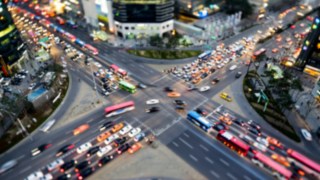 More than ever, people and companies are looking for the quickest, best value and most environmentally friendly ways to get from A to B. Electric vehicles, car sharing and mobility apps are paving the way for a new kind of urban transport. And some people are thinking even further ahead.
The way we think about mobility is changing. Increasing fuel prices, noise restrictions, the shortage and increased cost of parking spaces, congestion charges and bans on diesel cars are gradually driving cars with combustion engines off city roads.
Meanwhile, there are around 60 low emission zones in Germany, and the EU has made CO2-free mobility one of its long-term goals: By 2050, combustion engines are set to be off limits in all inner cities across Europe. Even the biggest car enthusiasts are realizing that urban areas will no longer be the environment for private transport in the future.
Borrowing Rather Than Owning
Digitalization provides opportunities to change the shape and way we think about mobility, making it more diverse and individual. In many cities, mobility apps are helping people to find the quickest, best value and most environmentally friendly way of getting from A to B. Because all the information is networked, we're no longer restricted to just one solution.
You could do half the journey by bus or train, then a few minutes on foot and the rest on an e-bike. And for the return journey – a car share right to your front door. With a smartphone on hand at all times, it's as simple as 123. At the German Institute for Urban Affairs in Berlin, they're also in agreement that the future lies in a mix of different means of transport.
Above all else, it's car sharing that's making the most impressive developments in Germany's car industry. In 2018, the number of users rose to 2.46 million – 350,000 more than there were the previous year. There are car-sharing services in 740 German towns, which provide around 20,000 vehicles.
Make Mine Electric
With car sharing, another trend is also emerging: If people are going to use a car at all, they want it to be electric. Almost all providers have electric cars in their fleet; some even offer exclusively electric cars. In turn, manufacturers such as the start-up firm Share2Drive are building cars which are exclusively designed for use in car sharing.
Where mobility is changing, so are methods of transport. The downfall of the combustion engine also affects delivery vehicles, which is why more and more companies are turning to electromobility for a solution.
By the end of 2016, the German postal service Deutsche Post was testing out its electrically-driven StreetScooters in a large scale pilot project in Bonn. With the slogan 'CO2-free delivery', the postal delivery scooters only used electricity generated from renewable energy sources. Since the end of 2016, the courier company DHL has also been using electric delivery cars in Cologne, Stuttgart and Hamburg. The parcel delivery firm DPD has announced that, by summer 2019, all delivery vehicles operating within the inner city of Hamburg will be electric.
Robots, Drones and Tunnels
Some people are thinking even further ahead towards delivery solutions which would completely eradicate the need for cars. One idea is to perfect delivery drones and use those to deliver parcels. Amazon proved that this was technically possible in 2016, when a parcel-carrying drone arrived at the customer just 13 minutes after the order was made.
Another idea is underground freight pipelines, through which electrically-driven capsules would transport goods to distribution stations. Electric vehicles or bicycles would then carry the goods for the last mile to the customer. The British company Mole Solutions, based in Northampton, is working on such a pipeline concept. And similar research is also being carried out in Germany, Italy and Belgium.
Even more futuristic is the plan to have packages delivered by robots, and yet Starship Technologies is already developing delivery robots which can deliver packages within a three-kilometer radius of a distribution station. Because the little electrically-driven delivery guys are so cost and energy efficient, they are being treated as a realistic option for the future of logistics. Maybe soon they'll be just as commonplace as electric cars and car sharing.
More from eMotion magazine
Want to find out more about e-mobility? Please feel free to get in touch!