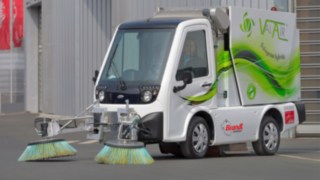 Vehicle Ready for Operation in Three Months
Sweeping, snow clearing, waste disposal: Cleaning urban areas is an ongoing task for municipal authorities. Companies, too, need to ensure that the surfaces on their premises are clean and safe at all times. This can involve working in tight spaces: For the urban and business environment, you therefore need compact and efficient cleaning vehicles with as few emissions as possible. So why not opt for e-mobility?
Val'Air, a specialist in sweeping technology based in France, opted for solutions from Linde eMotion when developing a suitable prototype vehicle. Once again here, Linde's proven forklift truck technology showed just how easily it can be integrated into almost any vehicle solution: From component delivery through to commissioning of the vehicle, the whole process took just three months. The technology is now in use in four Val'Air vehicle models.
The individual components are optimally aligned, tried and tested in forklift truck applications and also cost-effective.
Jacques Daval, Managing Director of Val'Air
Technology for Maneuver Magicians
The chassis of the hybrid sweeper is from the French firm Brandt Motors. All the drive technology is from Linde series production. This includes components such as the IEC 132 electric induction motor with a maximum output of 32 kilowatts, the power module and the LINC series electronic controller including software. This allows the vehicle to reach a top speed of around 30 km/h, which is reduced to 10 km/h during sweeping operations.
The compact design of the electric motors helps when developing particularly small, maneuverable and flexible vehicles like these, as required for urban and commercial cleaning.
From Prototype to Series Production
The sweeper used to have a small combustion engine on board in order to drive the brushes and the conveyor belt used to transport the debris into the bin. Since then, Val'Air has developed its prototype so it is ready for series production and also replaced the remaining combustion engine with an electric motor. The company is currently offering a basic model and the three models fitted with cleaning equipment, LEV1500, LEV1700 and CEV3500. All with Linde eMotion drive technology.

The vehicle in numbers
Sweepers need to be extremely compact and maneuverable. As well as effective cleaning, they should also produce as few emissions as possible. Linde's modern electric drive solutions and components should ensure that these requirements are met.
Drive
Motor: IEC132 3 X 48 volt induction motor
Output: 16.3 kW S3-15%
Max. torque: 130 Nm
Drive module: PM AC S50 80 V with cooling unit
Control: LINC 1
Linde Central Electric CE 80 V
Throttle CEH-20/06
Directional switch
Top speed: 30 km/h (drive mode), 10 km/h (cleaning mode)

Battery
Voltage: 72 volt
Capacity: 110 Ah
Type: Lead acid
Charging time: 8 hours
Operating time: 8 hours
Vehicle dimensions
Length: 3907 mm without and 5021 mm with brush
Width: 1350 mm
Height: 2131 mm
Weight with battery: 1858 kg
Max. weight: 2358 kg

Braking system
System: Two-way braking system in line with car standard
Front axle: Disc brake
Rear axle: Drum brake
Hand brake: Mechanical
Further application examples
Are you looking for a compact, powerful electric drive for your vehicle? Let's discuss a solution together.