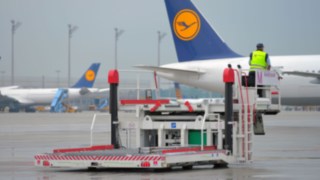 Setting New Standards in Cargo Handling
Every year, more than 400,000 airplanes take off and land and around 350,000 tonnes of cargo are transported: Munich Airport is one of the main hubs for goods and baggage. Container loaders are an important part of this logistical feat. Since 2011, the airport operator has been deploying a brand-new truck concept in this field, using the Cargo Master CML7 Green Line instead of a container loader with diesel generator.
The truck from Lawecoa leading global manufacturer of airport ground support equipment, is based on the systems expertise and an electro-hydraulic drive concept from Linde Material Handling's truck technology. The result is significant cost savings and no emissions.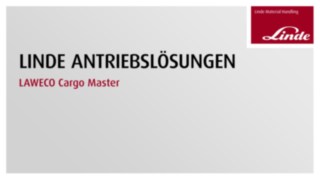 Efficient Interaction of Components
As soon as an airplane reaches its parking position, container and pallet loaders load and unload the cargo. In conventional trucks, a diesel generator lifts the platform and carries out a range of drive and locking functions. Laweco has dispensed with this and, together with Linde eMotion and other partners, has now integrated two 25-kilowatt electric motors and associated gear pumps into a new, eco-friendly, and efficient truck.
This combination of motor and pumps delivers up to 115 liters per minute at 250 bar, allowing loads of up to seven tonnes to be lifted easily. Additional drive components, such as the LINC 1 electronic controller, two PM ACS50 power modules and a DC / DC converter from Linde Material Handling's truck technology range, are also used.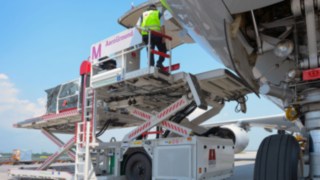 A Feat of Engineering for the Perfect Control System
While tried-and-tested standard components from Linde's truck technology range were used in the container loader's drive system, when it came to the control system, some complex engineering work was required. This was undertaken by the system integrator Eriks, commissioned by Laweco, alongside the Linde-eMotion dealer Jetschke GmbH. Together they developed a multiple hydraulic block
to control numerous functions, such as driving and lifting, positioning and tilting the loading bridge, and conveying and turning the containers. A huge advantage is that the control system ensures that the electric motors' speed is regulated based on the power required. This not only saves energy, but also protects the motors and pumps.
Power as Required
Did you know?
Alongside lower energy costs, the Cargo Master CML7 Green Line's operation and maintenance costs are also lower. Compared with a diesel truck, this equates to overall savings of around 47 percent.
The new truck concept offers a whole range of benefits. The Linde hydraulic motor's "ultra-low speed" ensures that the container loader's operator can position it at the fuselage with the utmost accuracy. The energy released when the load is lowered can be fed back to the battery. In addition, the product operates at a very low noise level and, unlike diesel engines, has no need for an idle operation mode – something which normally accounts for around one third of the motor running time.
In contrast, the Cargo Master CML7 Green Line's motors are only switched on as required. In turn, this means they only consume energy when the drive or operating functions require it. After a six-month field trial at Munich Airport, the scale of the savings is plain to see. The new drive concept saves around 7,800 liters of diesel per year.
Further application examples
Are you looking for an eco-friendly drive technology solution for your truck? We can work together to develop one for you.