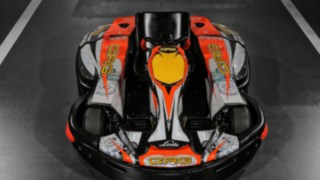 Achieving high speeds with Linde forklift technology
Why not install a forklift motor in a kart? No sooner said than done. And less than a year later, the kart was in the Guinness Book of Records for its acceleration. It sounds a bit like "Junkyard Wars," but that's exactly what happened back in 2010 and 2011. What started as an experiment led to the development of the E-DRENALINE electric kart, and is now a successful area of Linde Material Handling, known as Linde eMotion.
Inspired by its success, Linde eMotion—or Linde Electronic Systems & Drives, as it was called then—worked with the renowned Italian racing and rental kart manufacturer CRG to develop a sophisticated product: And the E-DRENALINE was born, going on to triumph around the world. The Drive Technology comes from Linde, the chassis from CRG. A closer look at the kart's properties shows the advantages of the Linde Drive Technology in the electric kart area and beyond, and demonstrates how kart manufacturers and track operators can benefit from Linde technologies such as the fleet management system connect.
The best kart is electric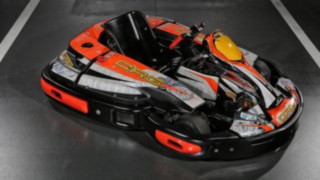 With the E-DRENALINE, we want nothing less than to create the ultimate driving experience on the kart track. This requires power and speed, as well as the highest possible levels of safety. And this is exactly what you get from the Linde drive system.
Christopher Sparacino, Head of the CRG Race-to-Rent Program
Innovative technology for years of driving fun
Fast, safe, clean: The karts must deliver on a range of user requirements. Not only that, but every single race track is completely unique—and every kart driver has a different skill level.
The E-DRENALINE is easy to handle, has particularly compact dimensions, low energy consumption, an optimal weight distribution, and is designed to last. It therefore meets all the key requirements of the kart track operators and drivers.
The Linde Drive Technology is particularly adaptable and flexible. The karts can be developed and adapted together with partners and customers to suit specific requirements for the design concept, mechanical integration, and drive control.
The features of the E-DRENALINE show the performance potential of this technology.
Powerful
Two-motor drive on the rear axle with electronic differential
2.6 KW nominal performance and 6.5 KW top performance per motor
From standstill to 180 Nm torque on the axle
Long-lasting
100 Ah battery nominal capacity (48 V) with 3000 charge cycles guaranteed
Running time up to 60 minutes with one battery charge
Robust
Motors and drive components protected against jet water spray (IP65)
Flexible
Three drive modes for experienced and newer drivers
Programmable performance curve for long (more top speed) or shorter routes (more acceleration)
Programmable braking performance using the drive motors on the rear axle, mechanical braking on the front axle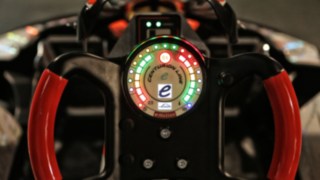 The motor required almost no changes. We adapted it only slightly and made it a bit smaller to fit into the kart. However, it is in principle still just a normal forklift truck engine, exactly as you would find in a regular Linde truck.
Wolfgang Klüpfel, Head of Linde eMotion
Kart 4.0 – connected on the track
CRG uses the remote diagnosis software connectfrom Linde Material Handling. The system records all relevant data from the vehicle controller and transfers it via mobile wireless network to a central server. This allows CRG to monitor the status of all E-DRENALINE fleets across the world and to carry out any necessary repairs within 24 to 48 hours.
The software actually brings far more benefits for kart track operators. All karts are equipped with a shock sensor. Depending on the shock strength, the controller can be programmed via connect:dt so that the kart brakes automatically and the driver can drive safely to the service area. This feature also allows the operator to determine whether the kart was handled incorrectly and to avoid any subsequent damage caused by such misuse. The connect:ac system can also be used to adjust access permissions and the maximum speed of the kart to match the ability of the driver.
Linde connect ensures kart track operators have a continuous overview of the usage and status of all karts, thus keeping control of their fleet at all times.
Would you like to drive an electric kart too?
From customer or employee events to open days, e-karts amaze both old and young alike. We can offer you a full package of e-karts with a 150 m racetrack, time capture, driver equipment and on-site support.
Write to us to find out more
Further application examples
Are you thinking about switching your forklift truck to an electric drive? Great, then we look forward to hearing from you!