A driverless ROTRAC
A Partner with a Keen Eye for Detail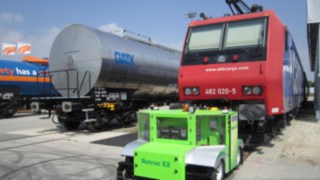 Stephan Zwiehoff is Managing Director of Zwiehoff Zweiwege-Fahrzeuge GmbH.Together with Linde eMotion, his company developed the ROTRAC E2 shunter with electric drive, which is capable of shunting trains weighing up to 250 tonnes. Its successor, the E4, can shunt double this weight. In this interview, Zwiehoff talks about the ROTRAC's early days, the partnership with eMotion, and driverless draisines.

Mr. Zwiehoff, can you remember when the idea for the ROTRAC first came about?
Yes, it was back in 2011 when my father was still in charge of the company. We attended a trade fair where Linde eMotion were exhibiting a demonstration vehicle designed to showcase the many opportunities that modern electric drives had to offer. When my father saw it, he went straight over to the eMotion stand and said: "I need a vehicle exactly like that, only I want something to run on rails. Is that possible?" Back then, we did have an electric shunter in our range, but it simply did not meet the required quality standards. We were therefore on the lookout for a partner to help us create a much improved version. In Linde eMotion, we found exactly that.

How did you approach the project?
When we sketched out our idea for an electric shunter, the eMotion engineers initially look at us blankly and asked how exactly we saw it working. Until then, they had never considered that their technology could be adapted to this type of vehicle. However we put our heads together and quickly discovered just how much fun it was to transfer the technology from Linde's electric forklift trucks over to a road-rail shunter. The development process was very quick and after just a few months we released the ROTRAC E2 onto the market.
Collaboration Across the KION Family
Proplan Transport- und Lagersysteme GmbH was also involved in the development of Zwiehoff's ROTRAC alongside Linde. The KION subsidiary is a fantastic source of specialist engineering knowledge for small series and prototype production.

Was it difficult to agree on the right approach when working with people whose background is in forklift truck design?
No, not at all. It's always great fun to work with the engineers from Linde eMotion. They bring lots of fresh ideas to the table and are always looking for new pragmatic ways to adapt their electric drives to a particular set of requirements. When you work with them, you see that they are true inventors who love to really get stuck into the detail of a task.

Was all the hard work worthwhile?
Absolutely! The ROTRAC and its successor, the ROTRAC E4, are both very much in demand. We sell them to customers around the world, in Malaysia, Brazil, Australia, Russia, and Kazakhstan. That said, Europe remains our biggest market as this is where there is most demand for high quality shunters. The ROTRAC has been a real success story for us, and it's the product that all our employees have most enjoyed working on.

Have you worked on any other joint projects with Linde eMotion?
In a special development one customer has the option to use the ROTRAC E4 for double heading. In this case, we couple two vehicles one behind the other and connect the remote controls, so that both can be operated together. When coupled in this way, they can shunt trains weighing up to 1000 tonnes. To achieve the necessary traction, the eMotion engineers replaced the vehicle's lead-acid battery with a lithium-ion drive. They also adapted the vehicle's drive control to meet these specific usage requirements.

Are there any plans to develop the ROTRAC in future?
We are currently working on an automation project with RWTH Aachen University and DB Systel, looking into driverless operation of the ROTRAC for certain applications. The idea is that users program the route using the software and the shunter then travels along the route independently. Human operators are no longer responsible for precision and safety when shunting carriages, instead the shunter does all the work. That's not to say it selects the route itself, but rather it travels from A to B without a driver.

Will that not result in job losses?
No, the situation is actually quite the opposite. Our customers are looking for automated shunting solutions for their trains, precisely because there is a growing shortage of qualified shunter drivers. Many drivers have retired in recent years, and there simply aren't enough people coming through to replace them. It seems that fewer and fewer people are interested in doing the job. Large companies such as Deutsche Bahn have recognized this trend and are now looking for alternatives.

How involved is Linde eMotion in this automation work?
We are still at a relatively early stage in the project. We are analyzing the options and looking for suitable sensors to meet our requirements. We are also giving a lot of thought to the necessary safety requirements. Which safety features could the vehicle activate automatically, and which should fall to the user? As soon as we have got these points clarified, we'll be in touch with eMotion to help us integrate the real time transmission of error messages and camera images with the vehicle controls, among other tasks.

When do you expect the first driverless ROTRAC to be available on the market?
We would like to have a version market-ready in three to four years. Given the success of our partnership in recent years, we're optimistic that we can achieve this.
Mr. Zwiehoff, thank you very much for your time.